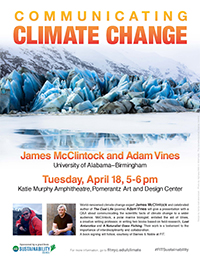 Anyone who is familiar with FIT knows that sustainability and climate change are growing initiatives at the college. Now more than ever, FIT is taking a stand to educate its students, faculty and the community as a responsible act of stewardship towards our planet.
Climate change, a new initiative introduced during the Spring 2017 semester, focuses on strategies for communicating the causes and effects on the earth. In line with the college's goals of academic and creative excellence, innovation, and empowering the student community, FIT is uniquely positioned to educate our students on this timely topic.
University of Alabama-Birmingham Professors James B. McClintock, one of the world's foremost polar marine biologists, and Adam Vines, celebrated author and creative writing teacher, will visit FIT from Tuesday, April 18, to Thursday, April 20, 2017.
For event information, see the event flyer here and RSVP.
Meli B.