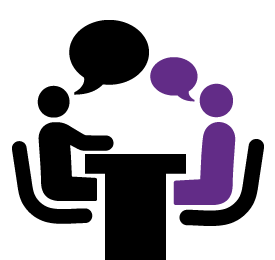 As I shuffle through my business cards, stalk potential employers on LinkedIn, and sit in front of the computer all day sending emails for internships, I can't help but share my two-sense on interviews. I am a firm believer in branding yourself (even if you're still just a "college student") and selling yourself to the fullest. If you're qualified and have a lot to offer, there's no reason why you're not fit for the job! Here are my top 3 interview tips:
1. Research, Research, Research: Search the company you are interviewing with online and gather as much information as possible. Whether it's the founder's story, company culture, products, mission or unique selling propositions, showing your interviewer you are educated and prepared will always leave a lasting impression. Also, using the company knowledge to relate to your own work experience will demonstrate you are the right candidate for the job!
2. Be Conversational: It is so easy to put important people within companies on a pedestal, but it is important to remember they are just people like us! Being transparent and "real" without the cookie-cutter one-liners appears more honest and authentic. Be yourself, because that's good enough. Don't be afraid to showcase a little bit of personality too.
3. Ask Questions: Show you are detail-oriented and care about what is being discussed. Asking specific questions about your expected role, tasks, responsibilities etc. will show you are engaged and serious about the position. Another rule of thumb: people LOVE to talk about themselves. As much as you talk about yourself, ask the interviewer personal questions to create a good connection.
Good luck with your job/internship search!
MB