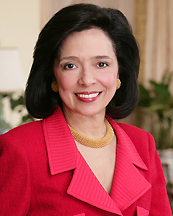 Dr. Joyce F. Brown is president of the Fashion Institute of Technology (FIT), a specialized college of art and design, business and technology of the State University of New York (SUNY). Appointed in 1998, she is the college's sixth president.
Dr. Brown, a highly regarded educator and academic administrator, has had over 30 years experience in public higher education. She held a number of senior administrative posts at the City University of New York (CUNY) before arriving at FIT, including acting president of Bernard Baruch College and vice chancellor of the university. Prior to her appointment at FIT, she was professor of clinical psychology at the Graduate School and University Center of CUNY, where she is currently professor emerita. Dr. Brown also served as a New York City deputy mayor for public and community affairs during the David Dinkins administration.
Throughout her career, Dr. Brown has been a strong advocate for public higher education and has demonstrated a sophisticated knowledge of the many communities that make up New York. She directed numerous special initiatives for CUNY, including the Urban Summit of Big City Mayors, as well as collaborations between the New York City Board of Education and the university which focused on improving academic preparation and retention in the secondary schools. In addition, she created and directed programs with the government of South Africa, including the Professional Development Program—an effort inspired by Nelson Mandela—designed to prepare black South Africans for key positions in business and industry.
Dr. Brown earned her doctorate and master's degree in counseling psychology from New York University and her bachelor's degree from Marymount College in Tarrytown, New York, where she served as a trustee from 1994 to 2000. She also received a certificate from the Institute for Educational Management at Harvard University.
Active in numerous community, civic and professional organizations, Dr. Brown also serves as president of The FIT Foundation, an advisory and support body to FIT. Her board memberships currently include the Ralph Lauren Corporation. In addition, she has served on state-wide commissions and task forces on the black family, child care and domestic violence. She has been honored by numerous educational, cultural and civic organizations including New York University, Marymount College, Clark Atlantic University, The Town Hall, Thurgood Marshall College Fund, Brooklyn Chamber of Commerce, New York County Supreme Court and the Staten Island Economic Development Corporation.
Under Dr. Brown's leadership, FIT instituted an unprecedented multi-year, multi-million dollar initiative coordinating strategic and investment planning to build faculty ranks, increase technology, expand the curriculum and improve student services. The college serves over 10,000 full and part-time students with a faculty and staff of more than 1,700. Dr. Brown is FIT's first woman and first African-American president.