Hi, all!
Welcome to a new series. My passion is fashion history before 1700, so I thought it would be fun to write a series on both good and bad fashion history sources. These posts expand upon the FIT Library's research guide on the subject of fashion history:
FIT Library research guide on fashion history
This post presents primary sources to learn about historic fashion. I've picked the 14th century (1300-1400 C.E.) in and around Paris, France. This was a creative hub in Western Europe, and is often considered the place where the western fashion system began. Style-wise, a new fashion for clothing fitted snugly to the body for both men and women had just developed. The new fashions spread from France to England and all over Europe within the next 20 years. (Information didn't travel then as quickly as it does now.)
The sources I've listed show how contemporary people presented themselves. These are considered primary sources for their clothing. Secondary sources, which we'll look at next post, might be images redrawn from these sources, or descriptions of these fashions written later.
To give some art historical context, here is this century and place on the Metropolitan Museum of Art's Heilbrunn Timeline of Art History.
There are a couple of popular medieval books which were illustrated with people from different classes and jobs. We are lucky enough to have them available electronically.
One of this is in the collection of the British Library in London, UK. This is known as the Smithfield Decretals. This collection of documents was calligraphed in France, c. 1340. However, the owner took it back to England with him. Around 1380 he commissioned artists to decorate its pages with scenes of everyday life. Each page has colorful illustrations of things like people baking bread or taking wheat to a miller.
Another great manuscript source is the Romance of Alexander, the source of the picture of couples dancing at the top of this article. The Bodleian Library, which owns the manuscript, has digitized it so you can click through it here.
Finally, the best selling poem of the middle ages, Le Roman de la Rose, a surreal exploration of the psychology of love, was illustrated in hundreds of beautiful books between it's publication c. 1230 and 1500. Many of these were illuminated between 1340 and 1400. Because the story remains the same, it is easy to observe changes in fashion on the same characters over successive copies of the popular work. Manuscript libraries have collaborated to digitize many of these, which you can view here.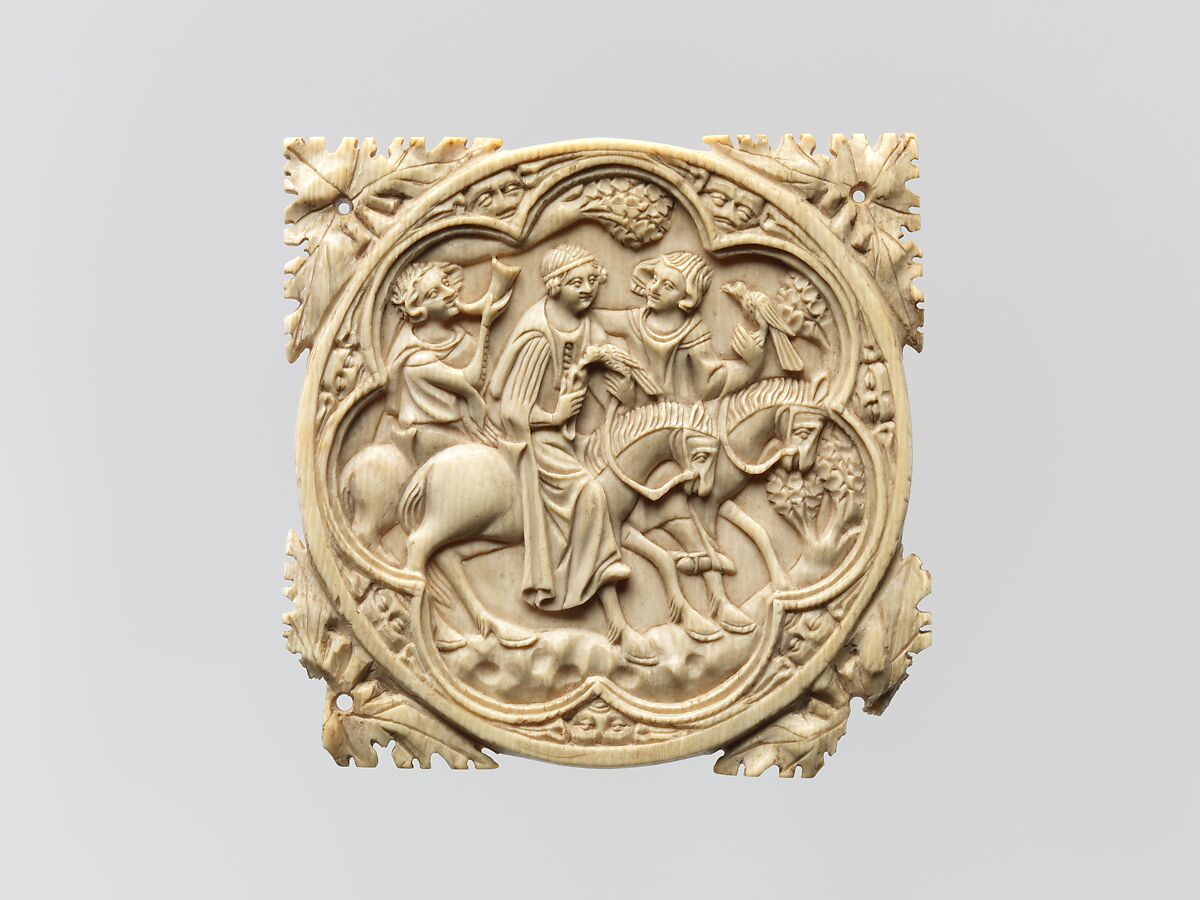 Another source for fashionable clothing are the accessories (often holders for small personal mirrors) that were popular 14th century gifts. The Metropolitan Museum of Art in NYC has several wonderful examples of these. This one depicts a noble couple out hunting, with a servant or chaperone, probably a scene from Le Roman de la Rose. Here, the gentleman sports a tall fashionable hat while his girlfriend wears a gown with hanging oversleeves.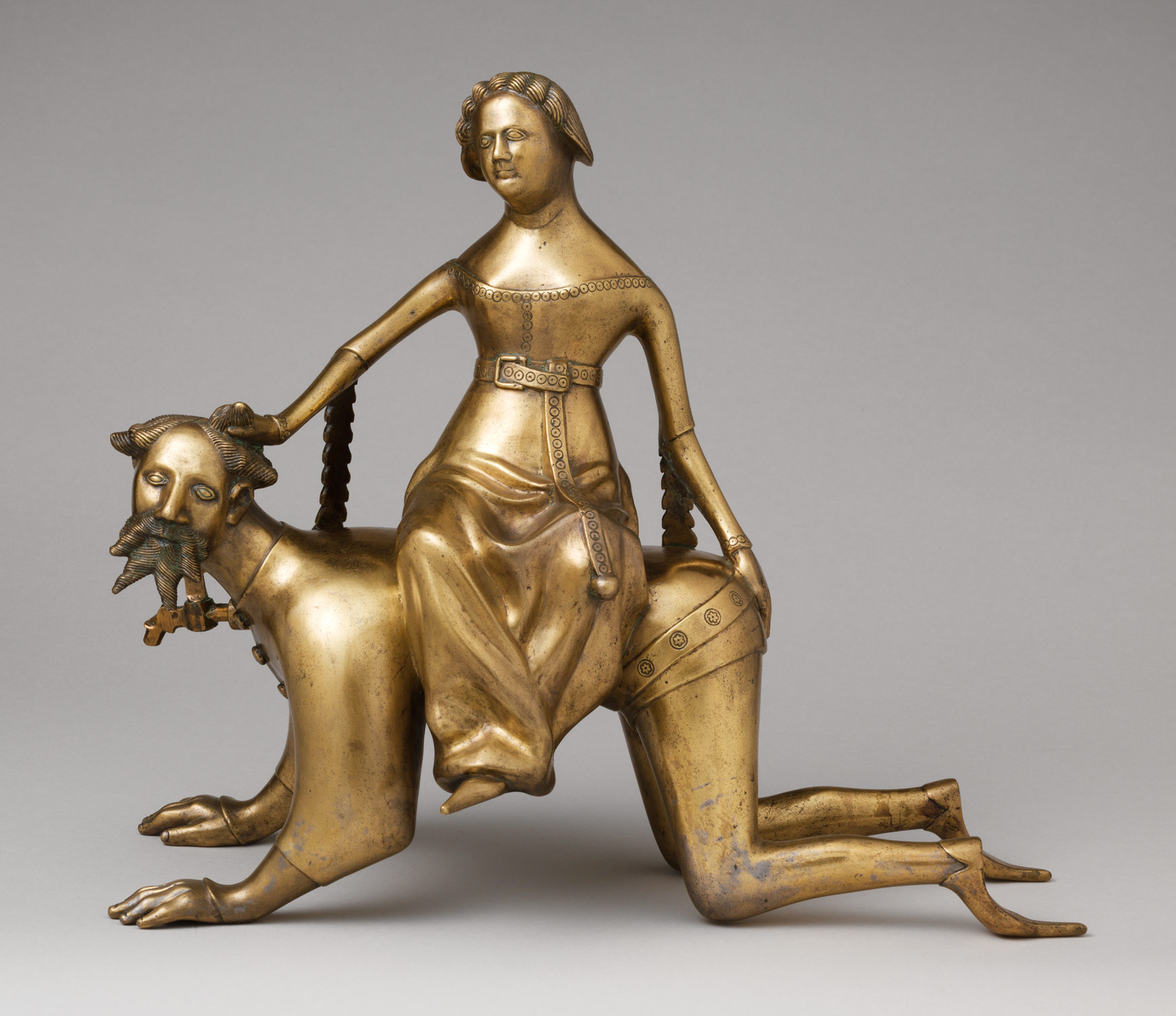 This source is a fancy water pitcher made of bronze, also in the collection of the Metropolitan Museum of Art. Note the detail on the woman's round edged hanging sleeves (called tippets) and the large sleeves and buttons on Aristotle's fashionable jacket.
This "aquamanile" shows the popular story  of Aristotle being treated like a beast of burden by Phyllis, the beautiful young lover of his student Alexander the Great. This story was popular with medieval Europeans, so it was recreated a lot. The characters were often depicted wearing high fashion. In this case, the item shows the high fashion of 50 years before the object was made.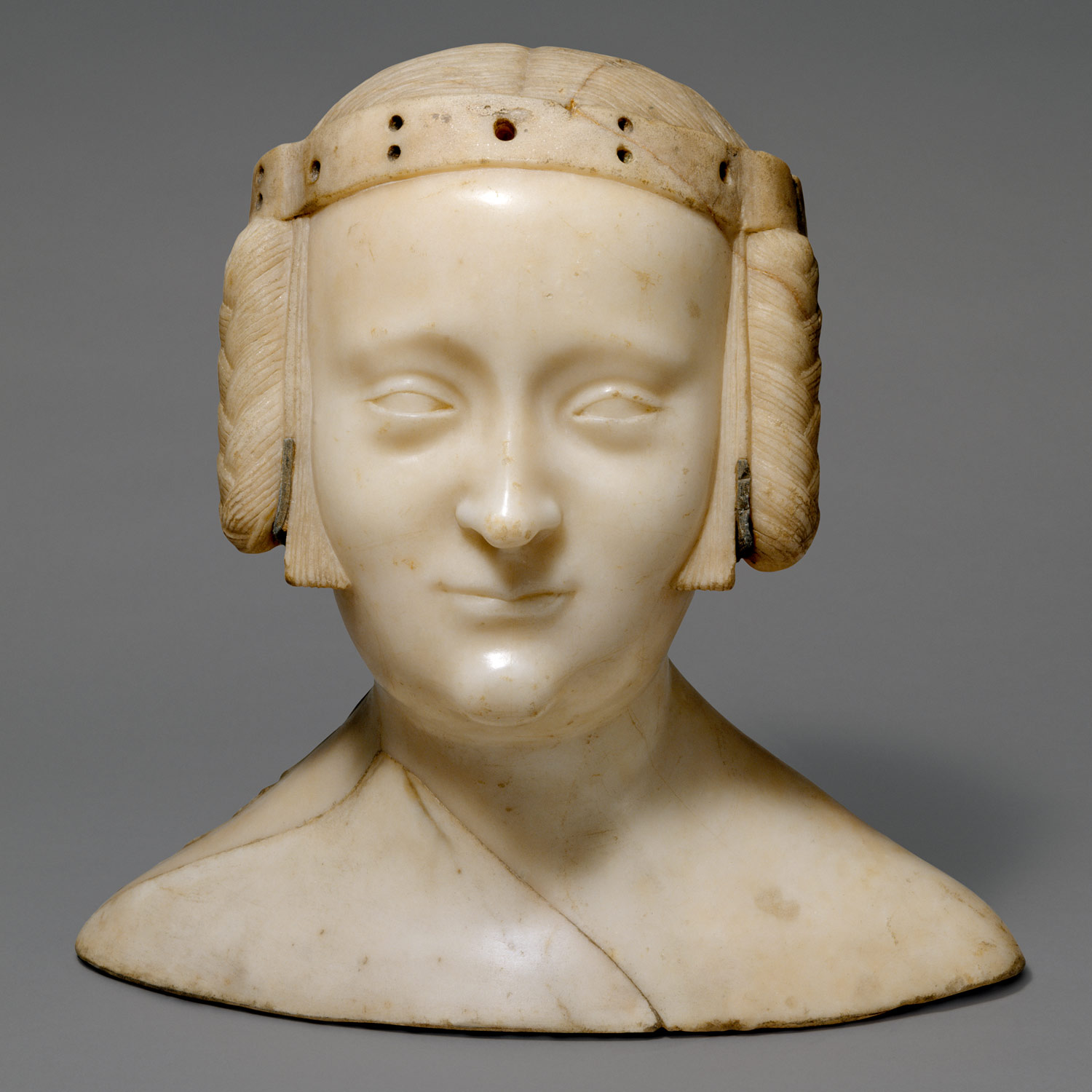 The Metropolitan Museum of Art is a wonderful place to wander around and look for fashion details. One of my favorite statues is this bust of a French princess, Marie de France. It was carved around 1381, as the sculpture that was put on top of her tomb at the Abbey of Saint-Denis. I love that the details of her braided hairdo are clear.
Another good way to find out about clothing is to read contemporary people's comments on clothing around them. This quote is from Le Menagier de Paris, which was a volume of advice written by a Parisian man to his young bride in 1393:
"Have a care, that you be honestly clad, without new devices and without too much or too little frippery. And before you leave your chamber and house, take care first that the collar of your shift, and of your blanchet, cotte, and surcotte, do not hang out one over the other as happens with certain drunken, foolish, or witless women, who have no care for their honor…and who walk with roving eyes and heads horribly reared up like a lion, with hair straggling out of their wimples, and the collars of their shifts and cottes crumpled the one upon the other." ("Menagier" quoted in Tortora, Phyllis and Keith Eubank. "Survey of Historic Costume", 3rd ed. Fairchild Publications, 2000, p. 129)
(Some glossary terms:
A shift is a woman's long linen undershirt.
Her blanchet was a cloth that was possibly a cloak, and possibly part of her draped headwear. Her cotte was her main dress.
Her surcotte an over dress, sometimes with sleeves, sometimes without.
Her wimple was the draped veiling that went under her chin.
We have lots of dictionaries for fashion terms in the library, too.
Here are some book recommendations at the FIT Library for more 14th century images:
The Art of Gothic: architecture, sculpture, painting
Europe in the Middle Ages, The Metropolitan Museum of Art
Italian Medieval Sculpture in the Metropolitan Museum of Art and the Cloisters
Prague: The Crown of Bohemia, 1347-1437
Happy researching! I'll be talking about secondary sources for fashion history soon!