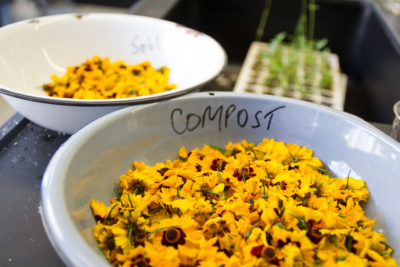 FIT's Textile Development and Marketing (TDM) Department has received a $15,000 grant from the Environmental Protection Agency to study the growth of coreopsis and indigo. These two plants are known for their yellow and blue pigments and will be evaluated with the aid of compost derived from excess muslin discarded by FIT Fashion Design students.
TDM Chair and Professor Jeffrey Silberman and Associate Professor Ajoy Sarkar sought the grant in an effort to see if muslin compost affects the growth rate of plants, as well as the richness of the resulting pigment and the colors' interaction with cotton fabric (color absorption and colorfastness). After 8 weeks of testing, the results are conclusive.
This project and the research that went into it is a clear outgrowth of the college's commitment to sustainability! This is an effort to prove viability on a larger scale in order to evaluate the potential impact for industry.
So what's next? The growing operations will be moved to Silberman's farm in Westchester, NY. A new proposal and request for funding have been submitted to the EPA, which will go toward the future phase.
Way to keep it green, FIT!
MB